Basement mold is extremely common across all climates. Basement mold is generally directly attributable to a few basic causes:
Failure of the builder to actually waterproof basement when built.
Clogged drainage tiles.
Failure of builder to install drainage pipes and a vapor barrier under the floor slab coupled with a high water table.
Attached Crawl space with no vapor barrier and or coupled with wet crawl walls.
We will briefly discuss each problem and the appropriate remedy as well as covering the basic strategies offered in our area and why our systems are SUPERIOR to all of our so-called "competitors".
By far the most common cause of all water problems is the failure of the builder to apply a waterproof rated product to the wall when the house is being built. It is a common misconception that smearing tar on the wall protects the wall from water and is in fact waterproof.
Wrong!
Have you ever known anyone that had an asphalt driveway?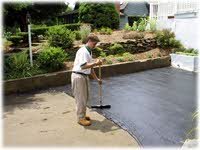 Have you ever known anyone that had an asphalt driveway?
How often did they Have-To Re- Seal it?
When I was a kid growing up two of my neighbors had an ongoing debate about their driveways. The first swore you needed to seal it every single year, and he did. The second one swore every two years was enough. I can still hear them arguing now in my mind's eye... The sad truth is that according to the US Bureau of Standards asphalt sealants begin to break down in only 18 months, YIKES! You see the sad truth is they were both right! And these so called water-proofers charge an average of ten to fifteen grand just to dig up the basement and seal it again using what FAILED already.