You'll Know Exactly How To Put My All Natural Procedures Into Action So You Will Never Have To Lose Your Health To Mold In Your Home.
You May Even Use These Techniques to Build A Profitable Money Magnet Business...
This is the Very Same System That We Have Used to Treat Banks, Large Corporations, Government Organizations, And Hospitals. The Same System That My Licensees Pay Me Over $20,000 To Attend My Training Boot-camps In Order To Learn Directly From Me...
Here are some of the important topics that we will cover:

Phase 1
Prepping the home: The first thing we teach you how to do is Site Preparation. We show you how to isolate the damaged are from the rest of the house.
We will teach you the basics of how to protect yourselves and your home from contamination during the clean up process!
We also explain the basics of negative air pressure and positive air pressure.
This is misunderstood by many professional contractors.
We will show you how to build proper air-lock doorways and how to separate your contaminated area from the rest of the house ! This is mission critical Infromation!
Phase 2
Kill the mold With a Fogger/Remove Moldy building materials and damaged contents: We show you how to SATURATE all of the moldy joists and subflooring with a special disinfectant formula that uses the amazing power of Hydrogen Peroxide- Mother Nature's miracle disinfectant.
The reason we start with this is that when mold senses it is being attacked, has a simple defense mechanism. It releases its spores into the air into an invisible or a visible cloud, a phenomenon called bursting or sporulation.
Can you see this spore cloud?
Billions of spores are released just by disturbing the mold!
Sorta' like "argh, ya got me….now here suffer the wrath of my babies! By using an atomizing fogger we literally saturate the surfaces, killing the mold and also mechanically washing the air itself, with tiny little particles of our special H2O2 secret formula.
Hydrogen Peroxide is unique among the mold killing chemicals as it is the only liquid I know of that will completely destroy a spore (mold seed), without being poisonous to humans.
In fact, it leaves behind only water. The way it works is this: when you pour hydrogen peroxide onto a cut and you see it start to fizz a simple chemical reaction occurs. Hydrogen peroxide is H2O2 which is water H2O plus +O or free radical oxygen. The free radical oxygen molecule is what does all of the killing. When it is done killing the mold via oxidization, all that is left behind is pure water!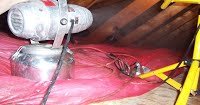 Our formula takes the benefits of Hydrogen Peroxide and amplifies them 1000 fold, using simple additional off the shelf ingredients.
This Formula, cost me hundreds of hours of research to find and thousands of hours of real world on the job field trials to perfect!
By breaking the H2O2 based Secret Formula into tiny micron sized particles it not only saturates the wood , it washes the air just like the rain washes it in nature, except our "rain" is microscopic particles of H2O2!
The only way to get these small particles is to use a ULV Cold Fogger!
This way we kill the spores before they can spread all over. This maximizes worker safety and increases customer protection should a containment, fail.
Remove the Moldy Building Materials!
Next we show you how to begin the tedious labor intensive demolition process. Removing all contaminated porous building materials and stored contents. Demolition is hard work, and is especially hot and difficult with restricted breathing in a Tyvec suit wearing a respirator. The bagged debris is then removed and put into a dumpster…..
Phase 3: Removing the Stains.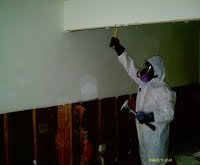 This is absolutely a must, because while truly only cosmetic in nature, failure to remove the stains will result in untrained eyes (home inspectors ) believing that the mold is still active. Removing the stains is the least important step scientifically, but it is the MOST IMPORTANT step perceptually.
There are two basic methods for performing stain removal, either chemically or via soda blasting. We either apply the stain removing solution, to the wood and wait or we go through the more costly and time consuming process of blasting the wood. The chemical process relies on the use of sodium hypochlorite a strong bleaching agent.
The blasting process is more labor consuming and costly. Both will effectively offer you a fresh new clean looking mold free attic back!
Both will amaze the realtor and or new home buyer.
Cost is the differential, deciding factor and we leave which process to use entirely up to you.
Phase 4 Top Secret Borate Recipe application Sheathing and trusses:
Next and most important to the long term efficacy of the process we teach you how to actually impregnate the wood with an environmentally friendly solution of borate, mixed with a few Secret Ingredients. This is made from an extremely finely ground and specially-designed-for-dissolving borax a cousin to the old fashioned 20 mule team Borax we use in our laundry.
This product is absolutely amazing. It was designed to penetrate the substrate a full inch (remember mold roots only grow 3/16's of an inch into the wood). It not only prevents all hosts of decay and dry rot fungi but it also prevents wood boring insects carpenter ants beetles and termites.
Just Imagine, you get a complete two-for-one bonus!
Just Imagine, Mold proofing and bug proofing in one fell swoop!
Phase 5: The O3 Gas Out:
Lastly, years ago when researching a safe non toxic residue mold killer, I discovered that the scientists at Los Alamos national laboratory (where the atomic bomb was developed) have extensively studied how to decontaminate a civil facility like a house or office building that has been contaminated by a spore based pathogen like toxic mold.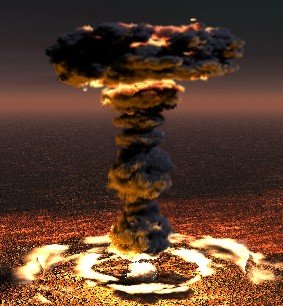 These scientists concluded that if you only follow the guidelines recommended for mold remediation recommended by every national mold certifying organization out there (IAQA, NAMP, IESO, IICRC Etc.) that you will leave the structure contaminated with spores after all attempts at clean up have been performed.
Why you ask?
They concluded that in order to fully decontaminate the structure/ area it is absolutely necessary to fill it full of toxic levels of a reactive gas, like ozone otherwise known as activated oxygen or O3. This gas penetrate the nooks and crannies and crevices in the attic and especially down into the insulation, where the liquid based chemicals/products can't penetrate....
The use of the gas out is necessary in guaranteeing the destruction of any invisible spores we remediators might have missed, because we can't see them (ten thousand to two hundred thousand spores can fit on the head of a pin).
That's right, no matter how experienced my men are, they don't have microscopes for eyes. This means that they cannot see the airborne or individual spores (and neither can you).
By Circulating this Oxygen gas throughout we guarantee to destroy the invisible spores that we might have missed!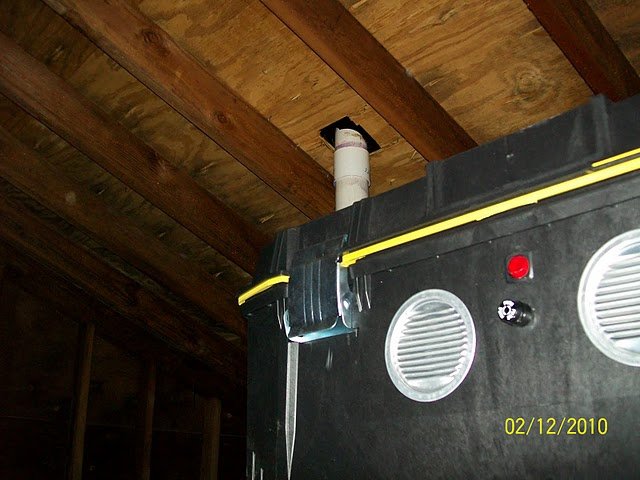 Our super powerful ozone generators fill the attic with an oxygen gas destroying mold, spores, viruses, bacteria, bugs, MVOC's and more!!!





Phase 6 Wrap-up
Finally we show you how to clean up the rest of the project and what to do to ensure this is a permanent solution.
You Have To Remember When You Buy The All Natural Family-Safe DIY Mold Removal System.
You will never need to spend thousands of dollars on mold inspections
You will never be handed a bill of $5,000- $50,000 for a mold demolition
You will No longer need to worry about sick-building-syndrome
You will never have to suffer through a mold problem again without knowing how to correct it!
You will never need to sleep in a different room/ different house because the mold is so bad!
You will never have to worry about your HVAC system spreading mold into other parts of your home!
You will never be confused about what to do for a mold problem again.
You will never be left behind or have unanswered questions as an All Natural Family Safe DIY System Customer.
Tell you now-NOT MUCH How Much Is This Training and Equipment Package Going To Cost?
So let's Recap:
1. You Get 3 ebooks that will teach you everything you need to know about mold removal.
2.You get access to the complete 6 step video library-
3. You get a powerful effective ULV Cold fogger to wash the air.
4. You get the a truly Powerful 14,000 mg/ph Ozone Cannon (my design the best in the industry!)
5. You Get the Powerful 3 Bonus E-Books Covering mold and your health and Mold and the Law
6.You get Access to the suppliers you need to get the right Products
7. You get 15 minutes consultation and guidance.
That's over a $1600 value!!!!!!!